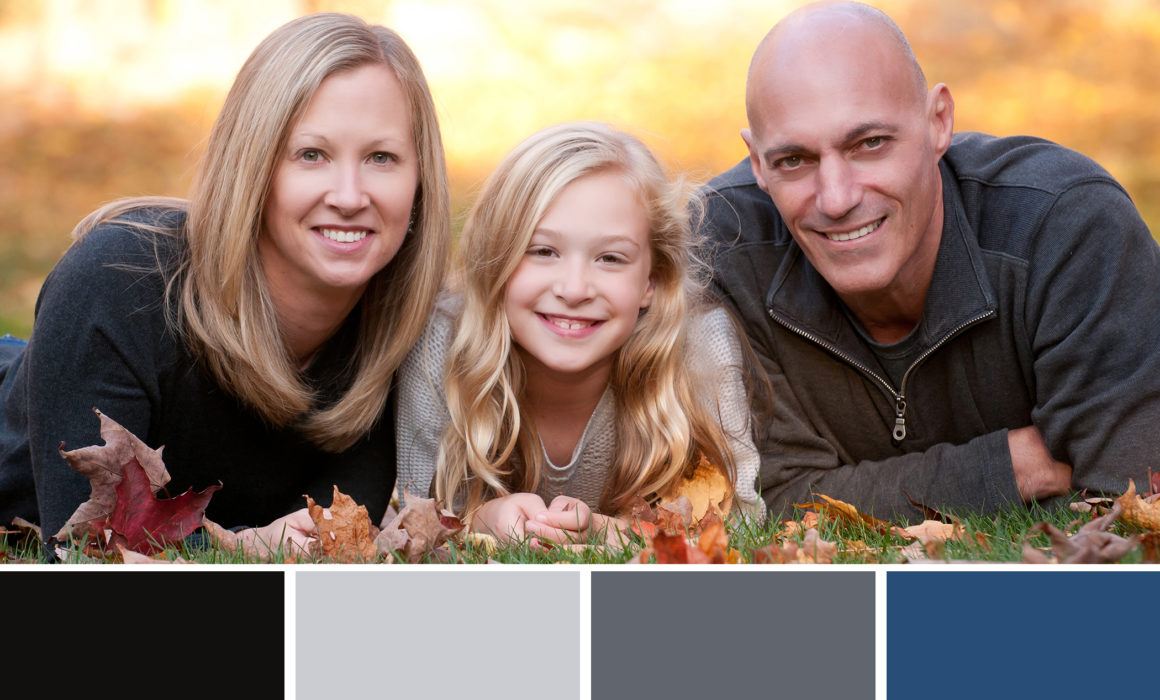 Being well prepared for you portrait session can make the difference between average and fabulous. Keep it simple and make sure you feel good in the clothes you select. Have your clothes and accessories ready the night before your session. Choose clothes that reflect your style and are appropriate for your ages. Make sure they are clean and free of wrinkles.
Colors
Simple, classic clothes and colors look best. We recommend that you avoid stripes and plaid (unless small and classic). Solid colors photograph much better than busy patterns. A deep fall color palette will complement the nature around you and create a timeless portrait. Browns, maroons, plum, hunter green, and navy are excellent fall colors. Knit sweaters, leather jackets, jeans, khakis and riding boots are all nice choices. You can also add a pop of color like the berry in the sample color palettes above. You will want to avoid logos and large, busy patterns.
Hair
A little curl cream or pomade can help prevent frizz and fly-aways. Do not make drastic changes to your hairstyle right before your photo session.
Makeup
Makeup that is well done is one of the best preparations you can make for your session. It will even out skin tones and help give your photos that extra pop for a model-like look. Even if you don't normally wear makeup or wear very little, take the time to do it well and your portraits will look their best. Mascara should be clean and not clumpy. Please don't be concerned about minor (or major) breakouts. We can touch all that up. Make sure that your face make-up is blended into your neck so that when you look in the mirror your neck is not too white.
Jewelry
Keep it simple. The proper jewelry can really complement your outfit. Select items that don't distract from your face.
Glasses
Most lenses have a glare. The safest option is to check with your eye doctor and ask if they'll loan you a similar pair without lenses.
Weather
Sun and/or clouds are great (clouds even out the light and can make for ideal shooting conditions). If it's actually raining or hurricane winds are blowing, we will have to reschedule.
Undergarments
Please make sure the colors of your undergarment coordinate well with your outfits and don't show through your clothing. Try on your clothing with the undergarments and make sure all is good.
Relax and Have Fun!
I strive to make the portrait sessions fun. If you are enjoying the session, it will show through and the result will be better images. Follow these easy tips and you'll be well on your way to looking your absolute best. If you have any additional questions, feel free to call, text, or email.